What's New in RiskyProject 5
RiskyProject 5 significantly improves the integration with Microsoft Project. In addition, it has improved performance, particularly with large and complex projects with linked external subprojects. Other key new features include a statistical report, parallel risks, find feature, and other user interface improvement:
RiskyProject Professional:
Advanced Project
Risk Analysis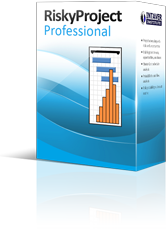 RiskyProject Lite:
Introduction to Project Risk Analysis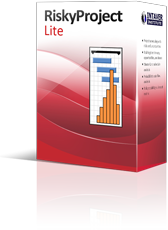 Here are some of RiskyProject clients:
Improved integration via the updated Microsoft Project Add-in:

Define statistical distributions for task duration and cost and assign them to one or many tasks inside Microsoft Project;
Perform Monte Carlo simulations without leaving Microsoft Project
View statistical distributions and tornado diagrams for selected tasks inside Microsoft Project
Save statistical distributions in Microsoft Project: you don't need to keep separate set of files for Microsoft Project and RiskyProject
Migrate legacy Risk+ data from Risk+ to RiskyProject

RiskyProject now has fully customizable statistical report. You may now view results of Monte Carlo simulations for selected tasks as part of one document, which you can print for save as a document (e.g. PDF).

For qualitative analysis, you can now modify the risk matrix to define different or nonlinear intervals for probabilities and impacts. For example "very low" impact could be from 0% to 2%, "low" will be from 2% to 5%, "medium" impact will be from 5% to 10%, etc...

RiskyProject now has all combinations of schedule constraints.

Parallel risks. For example, a risk "Change of requirements" causes a delay of 5 days, and a risk "Problem with supplier" causes delay 4 days. If these risks occurred together and they are not parallel, cumulative impact will be 9 days. If they are parallel, cumulative impact will be 5 days.

Improved tracking interfaces: you may now define remaining duration in the Tracking view

You can search any data fields in your project including project schedules and risk registers. For example, you may can search for all tasks with specific names, durations, or start times and assign different statistical distributions to these tasks.

New sensitivity analysis chart allows to user to view tornado diagrams for individual tasks. These tornado diagrams show how sensitive the finish time of the task is to the finish times of its predecessors.

RiskyProject 5 has been optimized for large and complex schedules. The schedules can now have multiple subprojects, which can be linked with each other. Calculation performance was significantly improved. New RiskyProject x64 version is now available.

Changes in risk impacts due to mitigation plans are now shown on the Risk Matrix.

Risk Register Summary: total number of opened/or closed risks, issues, threats and opportunities, number of mitigation plans, most recent changes, cost of all risks together pre and post mitigation or/and response, and other information.




RiskyProject 5 can be installed together with previous versions of RiskyProject (uninstall is not required). All current users of RiskyProject 4.2 can upgrade the software free of charge. If you are the user of an earlier version of RiskyProject please see the RiskyProject purchase page regarding an upgrade.