You should use weather calendars when you have historical weather data, if not, or you are modeling a schedule that could shift due to non weather related causes.
Weather calendars are useful when you have historical weather records that can be used to estimate the normal ranges of weather related non-working days for the project site. For example, you may use datasets that provide daily wind velocity, precipitation, temperature, humidity, etc for the past 40 years. The number of times the weather conditions meet a pre-set criteria (e.g. Winds +30 mph, 3"precipitaton) could be used to probability ranges for each month of the calendar year.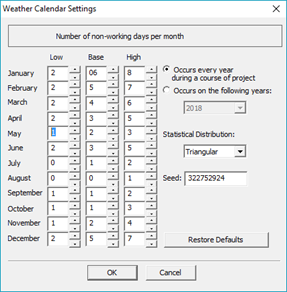 Alternatively, probabilistic calendars is a method of multiple calendars, each representing a possible work schedule. You could have a standard calendar and then others that model schedules that may be used due to events or changed circumstances. For example, you may have a standard calendar the has two 8 hour shifts/day. However, you know that there is a about a 50% chance that there will be issue with resources and you may have to switch one 8 hour shift, or less working days/ week.
You create new calendars in the Working Time dialog box. Once you have created the calendar, you can define your probabilistic calendars.