Yes and we do have users who do use the cost fields as proxies for other values or units. Therefore, if you wanted to create a model that simulates the variance in the number of cattle delivered over a specific period (e.g month) you can do this simply by adding a task with a one month duration and the most likely number of cattle.
To make it more explicit, go to the Project Options > Cost and change the Currency symbol to cattle.
Now, in the Cost and Income field you can create a risk model that can include low and high estimates or even risks. In this case, we are modelling the number of cattle over a 2 month period with low, most likely, and high estimates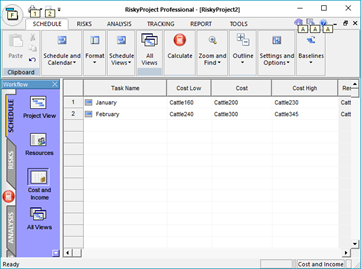 Run a simulation and you can see the results in the Cost chart. In this case, we will probably receive slightly less than we planned as the mean and P50 values are less than the most likely estimate.