With RiskyProject version 7, we recommend using the Export to Excel feature.
1. In Reports tab, set up the Simulation Results report to include the results you want to export to Excel.
2. From the File menu, click Export > Microsoft Excel
3. You are prompted to confirm the Export with some customization if required.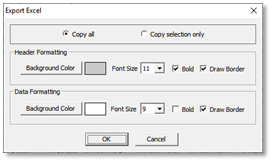 4. Click OK and the data will open as an Excel spreadsheet.