When you assign a statistical distribution to an activity that has best case, most likely, and worst case estimates, the software calculates the probability distribution function based on the estimates and the statistical distribution type. The Distribution tab in the Task Information dialog box allows some "fine tuning" of this probability distribution function by modifying available parameters. For triangular distribution, this parameter is the most likely.
If you change the Most Likely, which is the base estimate, it will skew the distribution which will affect the simulation results. For example, if you have an activity with estimates for best case, most likely, and worst case of 3,5, and 8 days respectively, the calculated probability of the most likely is 40%.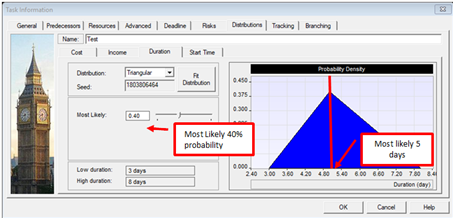 If you modify the most likely probability, it will change the acutal most likely value used in the simulation and skew the results accordingly. These new parameters will update the Most Likely estimate entered in the Gantt view.