Task deadlines can affect the results of simulations based upon how they are set up in the Task Information > Deadlines. You have three options for task deadlines:
No Actions:
A deadline arrow will appear on Gantt chart for all views, but the deadline has not affect on the results. This option is useful to visually show a deadline marker on visualizations without affecting your success rates or confidence levels.
End task
: If a deadline is surpassed during an iteration, the duration will equal the task deadline, but it is not cancelled and does not affect success rates.
Cancel task
: This reduces the task duration to the set deadline and success rate (as shown on the Success Rate view).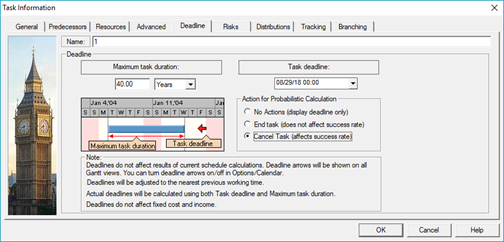 Of the three options, we recommend that you use Cancel Task if you are measuring the likelihood of meeting a deadline as a % and will use the Success Rate view to visualize the results. Otherwise, the we recommend using No Actions as your default setting as this will allow you to better measure confidence levels using the cumulative probability.