About Notifications
In RiskyProject, you can configure emails which will be sent to users to notify them regarding the status of risks, changes in their properties and upcoming risk reviews. Who needs to receive messages, what those messages are and when they will be sent are all fully configurable by administrators.
RiskyProject can be executed using Windows Task Scheduler every 5 – 15 minutes without preventing user interface and can send out notification e-mails. Notifications can be configured using Notification Manager. Notification Manager is accessible from Tools -> Notification Manager or from File -> Users -> Users Tab -> Notification Manager. After notifications are configured, RiskyProject can read data from notification messages in the RiskyProject database and send them.
To execute RiskyProject using Windows Task Scheduler to send notification messages, it is recommended to install RiskyProject Professional, Lite, or Risk Register on the server. This installation can be done exactly the same way as on a client's computer. A dedicated user can be created to execute RiskyProject for notification messages. The user name and password for RiskyProject installed on the server will be encrypted and saved in the registry. When RiskyProject is executed by the Task Scheduler, no interface will be prevented and user name and password will not be asked. For more information about how to configure a Windows Task Scheduler, please read the RiskyProject Enterprise Administrator's Guide.

---
Configuring Notification Messages
To start Notification Manager:
Go to Tools
Click on Notification Manager
Or
Go to File
Click on Users - the User dialog will come up
Go to Users Tab
Click on Notification Manager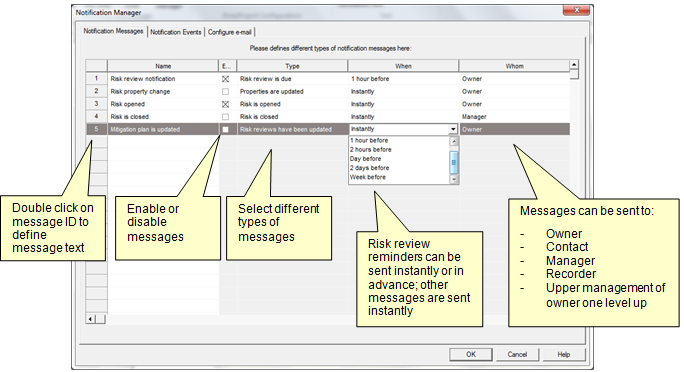 The Notification Messages tab allows you to configure individual messages. Double-click message ID to enter text for the message. You can use the buttons Risk, First Name, Last Name to substitute the message text with risk name and name of the message recipient. You can define multiple risk review reminder messages if you you want to send reminders at different times, for example, one hour, one day or one week in advance.
---
See also