Professional version only
Critical Path
By default, critical path calculation is disabled to improve calculation performance. If you enable critical path calculation, you can view critical tasks on the Gantt chart, as well as critical path metrics.
To enable critical path calculation:
Click the Schedule tab.
Click on Project Options.
In the Calculation tab, select Calculate Critical Path.
Click OK.
To view critical path and critical path metrics:
Open the Project view or Result Gantt view.
Right-click on Gantt chart and click on Show Critical Path
Right-click on the column header for the list of tasks and insert column with critical path metrics: Late Start, Late Finish, Total Slack, Free Slack, or Criticality index. You can also select Critical Path – cur.schedule, which is an indicator that this task is on the critical path.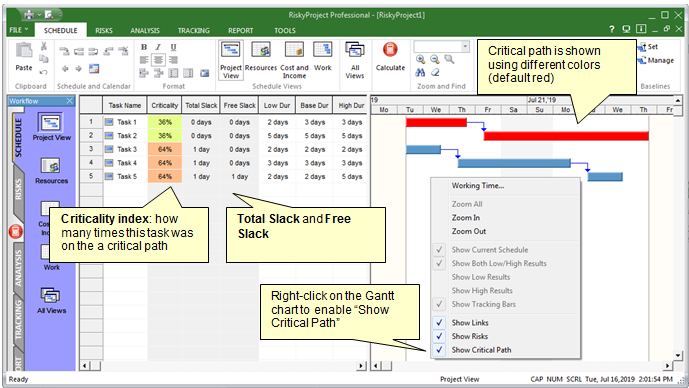 Notes:
You can change color for the critical path in Schedule -> Format Gantt Chart, under Settings and Options.
Critical path may slow down Monte Carlo simulation. You may disable Critical Path calculation if don't need to analyze critical path.
See also: