About the Portfolio Gantt View
The Portfolio Gantt view is a Gantt chart view of your project portfolio. In the Portfolio Hierarchy you can view your programs and projects. If you have permission, you can also modify the hierarchy by adding, deleting, moving etc. programs or projects.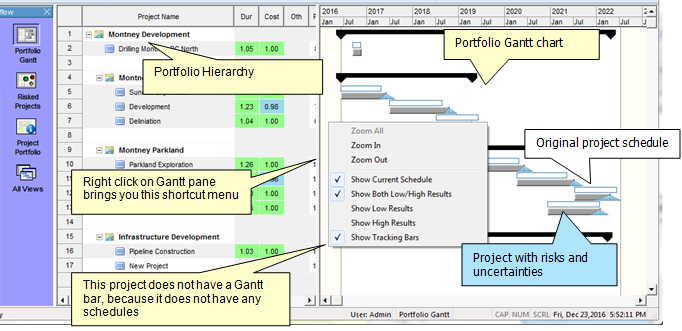 Double-click on a Gantt bar to view detailed information about a selected project.
Using the Portfolio Gantt view you can visualize:
Projects with risks and uncertainties alongside original project schedules
Low and high project durations
Project performance: tracking bars will be shown
Low and high project results, which may be shown separately
To view the different settings listed above on the Portfolio Gantt view:
Right-click on the Gantt chart and make a selection from the shortcut menu.
---
Low and high results are associated with the particular percentile; definition of low and high results can be changed in Portfolio Options (Calculation tab). See About Portfolio Options and Preferences for more information.
---
See also