Risk Properties and Risk Register View
Risk Properties include:
Risk Name, ID, description, statement, objectives, assumption, cause and trigger
Open/close risk.
Risk life cycle status: Risks, issues, lesson learned.
Risk ownership
Risk mitigation strategy
Risk costs
Risk start and end date
Other information about risk
You can define risk properties as columns in Risk Register view. To do it, click on the header in Risk Register and insert column with risk property
Defining risk chances and outcomes in the Risk Register grid
By default, the Risk Register's columns don't allow you to enter risk chance and outcome directly. You need to define appropriate columns first:
Within Risk Register view, right click on the header of the column next to which you want to define that column in order to enter chances and outcomes.
Click on Insert Column Before or Insert Column After.
Select field from the Field Type dropdown list. Here is the list of columns which can be presented in the Risk Register:
Columns for Chance (Probability) and Score are defined the same way. After you define appropriate columns, they can then be used to enter the risk chance and outcome for each category.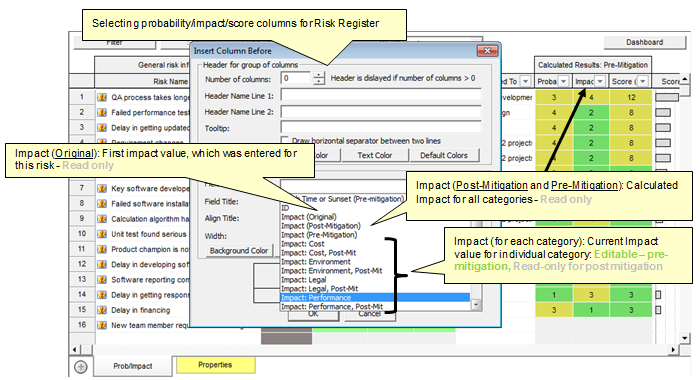 See also