Professional version only
Importing Chances and Outcomes of the Risk from Microsoft Excel
You can import risk chance and outcome from Microsoft Excel files. You can use this, to link the chances and outcomes of a particular risk to cells in an Excel spreadsheet. If you link chance and outcomes to an Excel spreadsheet and then make changes to that spreadsheet, RiskyProject will automatically update these values when you open the linked RiskyProject file and click the Refresh Data (Tools tab) button.
To setup integration between RiskyProject and Excel:
Setup a connection to an Excel spreadsheet. To setup a connection to Excel spreadsheet on Tools tab click on Connect/Disconnect button. You can visualize the Excel spreadsheet the Visualize Excel button.
Open any view in which you can perform risk assignment. For example, the Risk tab of the Task Information dialog box.
Right-click on an outcome or chance field. Select Link to Excel Cell from the shortcut menu.
The Excel spreadsheet will open. Select a cell within the spreadsheet. In the dialog box, click the button to link the selected cell to an outcome or chance field.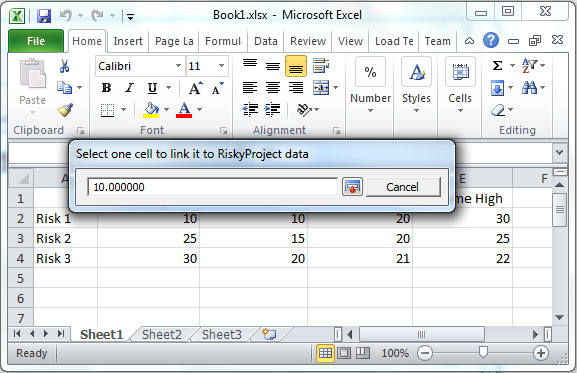 See also