Assign duration/cost to found tasks
Once you have selected the activities that you want to modify, you can then mass edit the low and high estimates for duration and cost to the selected activities.
To set low and high duration or cost to found activities:
Using the Find feature, search for those activities to which you want to set the low and high duration or cost.
In an open view, click on the Task ID of one of the found activities (highlighted in black) to select it. The highlighting will change to a lighter shade of gray to indicate that you have made a selection.
Right-click and from the shortcut menu, choose either Set Low/High Duration or Set Low/High Fixed Cost.
In the dialog box, click the Apply to Found tasks option.
Enter the rest of the required values or coefficients for Low and High estimates and select a statistical distribution.
Click OK.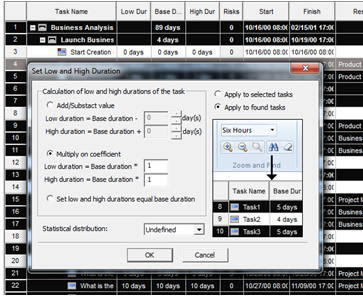 ---
See also
Finding Text or Data
Distributions for 3-point estimates
Defining task distributions
Assigning Low and High Estimates for Duration and Cost for Group of Tasks