Statistics Report for Quantitative Analysis
Once you have completed the Monte Carlo simulation, you can quickly generate a statistics report for selected tasks in your project schedule. The statistics report can include histograms for Finish Time, Start Time, Duration, and Cost as well as a Sensitivity to Finish Time.
To create a statistics report:
Run a simulation on your project.
Click the Reports tab. In the Report Views group, click Statistics Report.
Select the activities that you want to report on by clicking the check boxes beside the activity names.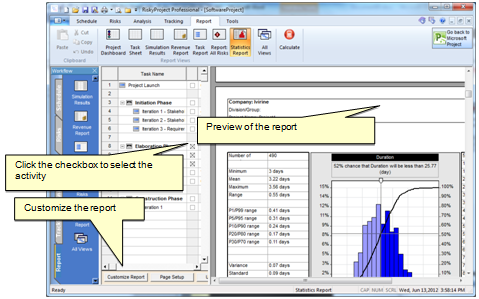 See also
RiskyProject Reports
Customizing the Statistics Report
Project Dashboard
Task Reports
Risk Reports

<